An extensive range of reclaimed roofing tiles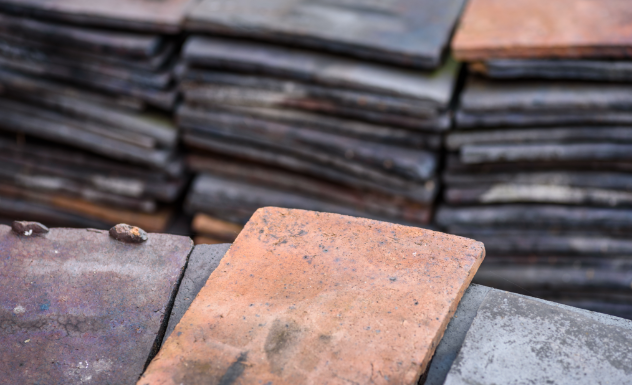 Boasting literally hundreds of different kinds of recycled roofing tiles in stock, we're the first choice for authentic building materials for trade and private customers in Epping and throughout Essex.
Salvaged from hospitals, schools, hotels, and all kinds of large old buildings, our tiles are always in great condition thanks to the careful demolition techniques our demolition partners use to dismantle these structures.
Representing many different styles and construction periods, we'll help you choose the right stock to ensure your building work seamlessly blends with its surroundings.
What tiles do you have?
Our range really is comprehensive, so much so that it's too long to list here in full. For example:
Acme century
Acme sandstorm
Albions
Coalport broseley
Double roman
Dreadnoughts
Essex peg tiles
Much, much more…
Need something else?
If you think you have an unusual or hard-to-meet requirement, you may be pleasantly surprised when you contact us. And we don't just stop at tiles. You'll also find the following when you visit our well-organised yard:
Roof finials
Ridge tiles
Dragon finials
Victorian finials
Block-end finials
Gargoyles
Other feature & decorative pieces
What can your tiles be used for?
There are no rules when it comes to reclaimed tiles, or any other building materials for that matter. You could build an entire house or just have a portion of your roof repaired. We speak to customers like you on a daily basis carrying out a range of building and DIY work such as:
Home renovations
Extensions
Porches
Garages
Loft conversions
Roof repairs and replacements
Friendly, knowledgeable, and here to help
Whether you're a seasoned builder or a first-time DIY-er, sometimes you need a little guidance. From help matching the right materials to your project, to advice on price or quantity, we've got years of knowledge and experience behind us, and we're always happy to help.